Printing settings for Excel documents with complicated structure
Preparing of Excel documents with complex data structure and large amount of information for printing.
Preparation and making settings for tables printing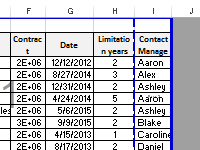 Adjusting a print area in page break preview view Excel.
The advantages of page mode to configure the print multi-page documents and large tables. print management. Saving settings in the manager views.